HIGH-FLYING FUN
Kites Over Euless gives people a chance to play
By Terry Lee Goodrich
Star-Telegram Staff Writer
<![if !vml]>
<![endif]>
SPECIAL TO THE STAR-TELEGRAM/RICHARD W. RODRIGUEZ
Mary Katherine McCoy, 8, of McKinney runs downhill to try to get her kite aloft at Erwin Park in McKinney on Sunday. On Saturday, Euless will host Kites Over Euless at The Parks at Texas Star soccer fields.
<![if !vml]>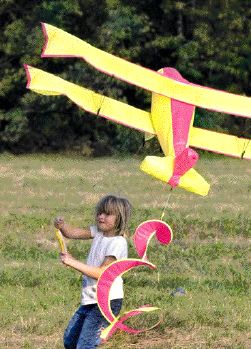 <![endif]>
SPECIAL TO THE STAR-TELEGRAM/RICHARD W. RODRIGUEZ
Taylor Holmquest, 6, of McKinney tries to get her biplane kite flying at Erwin Park on Sunday.
EULESS - A 75-square-foot kite ascends to the clouds, toting an enormous bag. Children gaze skyward expectantly. When the moment's right, the kite's operators yank a cord, and the bag splits open.
Wrapped candy rains down for the gleeful youngsters.
"There's a mad dash," said kite technician Stan Harmon of Waxahachie, who has helped orchestrate such candy drops many times.
On Saturday -- wind permitting -- there will be a drop at Kites Over Euless, a new city event at The Parks at Texas Star soccer fields. Stunt kiters will demonstrate their talents, amateurs will brush up on their skills and novices can try their luck. Kiteless folk may buy kits and make one.
"We focus on family. We want people to turn off the TV and get out together," said Jerry Poteet, the city's volunteer and special events coordinator.
He said city officials hope to attract several hundred people.
"We aren't making money, but we have hopes to make it annual," Poteet said. "We've been handing out fliers at libraries and grocery stores. It has potential to take off -- no pun intended."
Harmon and his wife, Gloria, who operate the Rainbows 4 Sail kite business in Waxahachie, will oversee the fun.
They will sell kites and fly some of the many they tote in a 40-foot trailer.
Among the stunt kiters will be Trung Tran, 42, of Rowlett. His motto is "Have you tugged your kite today?"
"It's really cool," said Tran, who works in semiconductor production. "A lot of people think a kite has a one-line string, but some have two lines. I use a dual line for control."
He can coerce his dozen kites to flip and dive.
Among stunt kiters' maneuvers are the Crazy 8 -- a figure 8 -- and the Stall, in which a kite comes to what might be called a screeching halt.
Tran and other stunt kiters will fly kites in a 10-acre roped-off field, while amateurs will be in another 10-acre field, organizers said.
The Harmons know kiting can be frustrating, so they will advise and rally those hoping for cooperative winds and untangled strings.
The couple will also regale anyone who will listen with tales of their fixation, which began eight years ago on a trip to New Jersey. As they listened to friends who had opened a kite shop, Gloria Harmon, a school bus driver, was polite but puzzled.
"What are middle-aged people doing flying kites?" she wondered.
On the drive home, Stan Harmon, a plumber, was excited, telling her that they should fly kites in Texas' wide-open spaces.
"I wasn't paying much attention," Gloria Harmon said.
These days, the Harmons travel on weekends to kite events around the country, marveling at people who choreograph kite flights to music.
Gloria Harmon speaks reverently of a Tulsa, Okla., man in his 70s, who flew three kites at once, guiding one with each hand and the third, attached to his waist, with tummy movements.
But one of her favorite scenes was at a Rainbows 4 Sail event.
"I'm thinking of a 14-year-old whose mother bought him a triangle kite. He was thinking, 'This ain't cool,' " Gloria Harmon said.
"An hour later, he came bebopping up to our trailer and said, 'I've really had so much fun!' "
Kite festival
Kites Over Euless will be from 10 a.m. to 2 p.m. Saturday at The Parks at Texas Star, 1501 S. Pipeline Road. The event is free. Fun seekers may bring kites or purchase kits for $1 to $3 and make a kite. Concessions will be sold. Lawn chairs and coolers are allowed but no alcohol. Pets must be leashed and will not be allowed on flying fields. Kites will not be flown during lightning. If there is no wind, the Harmons will show and sell kites and help people make them. For more information, call (817) 685-1666.